(West Orange County, 11/22/2016) by Dave Emerson:  Thanksgiving is a uniquely North American holiday. It is only celebrated in the U.S. (4th Thursday in November), Canada (2nd Monday of October), and, more recently, in Grenada (October 25th).
What a great idea–a day set aside for a celebration of thanks! In many ways, it's my favorite holiday–less commercialized, more family oriented, with unique American roots and even a relatively healthy main dish.
But there's way more to this holiday then food and family, as a brief review of Thanksgivings past reveals.  Along with a few surprises. . . like the fact that the first Thanksgiving celebration in North America didn't take place in Massachusetts, but in Florida! And the celebrants didn't even speak English!
The real first recorded American Thanksgiving: 
Believe it or not, the first recorded Thanksgiving in North America was probably referred to as a "Dia de Gracias" by those who participated.  It was actually celebrated in Spanish in what is now St. Augustine, Florida. On September 18, 1565, 600 Spanish settlers landed there and immediately held a Mass of Thanksgiving for their safe arrival in the "New World."
Not only did the early Spanish-speaking immigrants arrive her decades before their English speaking counterparts, they also picked a location with a much more hospitable climate.   Incidentally, there were no walls to keep either group of immigrants out, a fact which the Native Americans must have come to regret.
The second  Thanksgiving
54 years later, a group of 38 settlers arrived from England at a site about 20 miles upstream on the James River from Jamestown, to begin a second English settlement in the Colony of Virginia.
Although this settlement was a commercial venture of a secular nature, their charter stated, "We ordain that the day of our ships arrival at the place assigned for plantation in the land of Virginia shall be yearly and perpetually kept holy as a day of thanksgiving to Almighty God." So when they arrived on December 4, 1619, the group's leader, Captain John Woodleaf held their first Thanksgiving service.
The third & fourth Thanksgivings"
The "first Thanksgiving" most of us think of took place a few years later.
3rd:  On November 21, 1620, the Mayflower dropped anchor off of Cape Cod to begin a new English colony. The "Pilgrims" were primarily motivated by a desire for religious freedom, but they were joined in the venture by some who came for commercial reasons. They suffered a horrific first winter in America, losing almost half of their group, but new hope came after the harvest in 1621. Governor William Bradford decreed a three day feast, which the colonists celebrated with the local Native Americans, with whom they had signed a peace treaty a few months earlier.
4th:  Two years later, a lengthy drought threatened the harvest, and the colonists prayed fervently for rain. When their prayers were answered, an actual Day of Thanksgiving was declared by Governor Bradford for July 30, 1623. This was more of a church observance than a feast day, but over time the two distinct harvest events have been combined into our Thanksgiving holiday.
The first "national" Thanksgiving
In 1777, the second year of the Revolutionary War, the Continental Congress issued the first national Thanksgiving Proclamation, declaring December 18th, 1777 as a national day of Thanksgiving.  The proclamation encouraged the governors of each of the thirteen colonies to set the day aside for "solemn thanksgiving and praise," as well as prayer for the spiritual and material success of the newly independent colonies.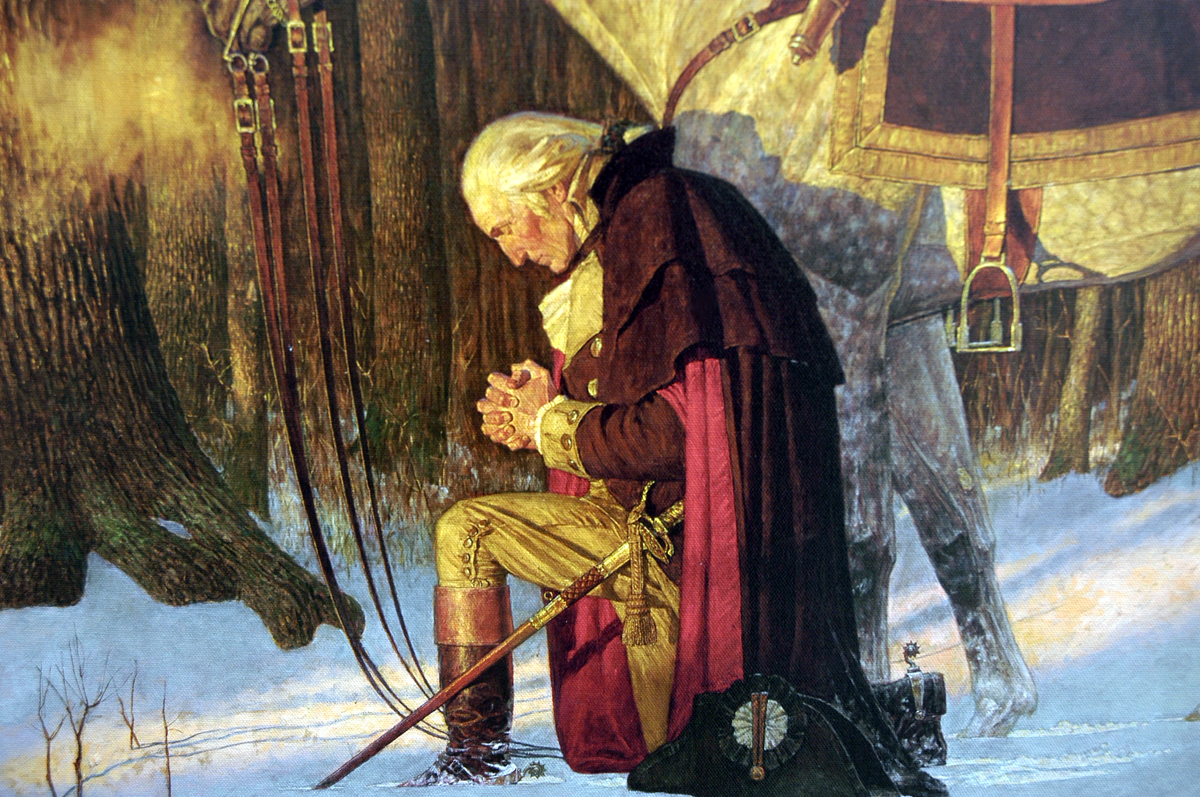 President Washington's first Thanksgiving proclamation
On my birthday, October 3, but a few years earlier, in 1789, at the urging of Congress, President Washington declared Thursday, 11/26, 1789 a "day of public thanksgiving and prayer." Although clearly non-denominational and non-sectarian, the proclamation was deeply religious.
Here is the text of that proclamation:
Whereas it is the duty of all Nations to acknowledge the providence of Almighty God, to obey his will, to be grateful for his benefits, and humbly to implore his protection and favor, and whereas both Houses of Congress have by their joint Committee requested me "to recommend to the People of the United States a day of public thanksgiving and prayer to be observed by acknowledging with grateful hearts the many signal favors of Almighty God especially by affording them an opportunity peaceably to establish a form of government for their safety and happiness.

Now therefore I do recommend and assign Thursday the 26th day of November next to be devoted by the People of these States to the service of that great and glorious Being, who is the beneficent Author of all the good that was, that is, or that will be. That we may then all unite in rendering unto him our sincere and humble thanks, for his kind care and protection of the People of this Country previous to their becoming a Nation, for the signal and manifold mercies, and the favorable interpositions of his providence, which we experienced in the course and conclusion of the late war, for the great degree of tranquility, union, and plenty, which we have since enjoyed, for the peaceable and rational manner, in which we have been enabled to establish constitutions of government for our safety and happiness, and particularly the national One now lately instituted, for the civil and religious liberty with which we are blessed; and the means we have of acquiring and diffusing useful knowledge; and in general for all the great and various favors which he hath been pleased to confer upon us.

And also that we may then unite in most humbly offering our prayers and supplications to the great Lord and Ruler of Nations and beseech him to pardon our national and other transgressions, to enable us all, whether in public or private stations, to perform our several and relative duties properly and punctually, to render our national government a blessing to all the people, by constantly being a Government of wise, just, and constitutional laws, discreetly and faithfully executed and obeyed, to protect and guide all Sovereigns and Nations (especially such as have shown kindness unto us) and to bless them with good government, peace, and concord. To promote the knowledge and practice of true religion and virtue, and the increase of science among them and Us, and generally to grant unto all Mankind such a degree of temporal prosperity as he alone knows to be best.

Given under my hand at the City of New York the third day of October in the year of our Lord 1789
President Lincoln proclaims
The tradition of a national Day of Thanksgiving each Fall was begun in 1863, in the midst of the Civil War, by President Abraham Lincoln.
As with the earlier Thanksgiving, times were very tough, and, by our standards, there really wasn't very much to be thankful for.
President Lincoln's 1863 Thanksgiving Proclamation pointed out that there was still much for which to be thankful, and that ultimately all blessings come from God's gracious hand. It was also a call to national prayer for peace, healing, and for the many orphans and widows the Civil War had created.
Thankful for Thanksgiving 
I think it's great to have the attitude and the holiday of Thanksgiving woven so thoroughly in our nation's roots,  Spanish speaking Catholics, secular entrepreneur/adventurer/capitalists, and devout Pilgrims mixed with more entrepreneurial adventurers all took time to thank God for their safe arrival, and for the opportunity this new land offered.  And for the fact that only half of their number had died the first winter!  Talk about the glass being half full!
Then during the dark years of the Revolutionary War and again in the darkness of the Civil War two of our greatest Presidents made national Thanksgiving proclamations.
When the going gets tough, the tough find things to be thankful for!
Compared to the much of the rest of the world, or even the rest of the nation, our life on these beautiful, clear, & sunny Fall days is far from tough.  But we all still have struggles and challenges that at times seem overwhelming.  Taking time to count our blessings and thank those closest to us
This year Thanksgiving again comes in the midst of trying times for many of us.  We really have no complaints, however, compared to those Pilgrims had on that first New England Thanksgiving in 1621, where half of the colony's residents had died since landing a year earlier!
A thankful attitude makes life more enjoyable and more worthwhile. Our real estate and stocks may be worth less than they were a year ago, but we are still richly blessed, and have much to be thankful for.
Including the American tradition of giving thanks.
Click here for all of our 2014 "Ten Days of Thanksgiving" posts.